Ongoing project :
Protection of wildlife by the Maasai, combining traditional knowledge and technology
- Part.1 
In 2007, the community council of Rombo, a Maasai territory located in southern Kenya on the border with Tanzania, decided to devote almost a third of its territory to wildlife conservation by creating a conservation area. A few years later, Rombo Wildlife Conservancy Trust (RWCT) is founded to manage the conservation area and to enable the Maasai community to develop in harmony with its traditional culture and environment, a research camp is then created on the edge of the conservation area. The team members are all from the Maasai community of Rombo, with the exception of a French woman who has been helping the association financially and logistically since 2011. 
The research team tracks animals in the conservation area and lists all the wild animal species present on the territory, by collecting data using GPS coordinates, transcribed on paper then on computer. GPS data are also used to map the conservation area and the whole territory of Rombo because there is still no map of this territory. 
Moreover, in collaboration with Big Life Foundation, RWCT works to reduce human - wildlife conflicts. Team members regularly patrol with Big Life rangers, who are also from the Maasai community of Rombo, to fight against poaching, identify and attempt to resolve human-wildlife conflicts (predation on herds, destruction of crops…). RWCT has also put in place environmental educational programs in the schools of the territory of Rombo. In this way, the involvement of the local community in conservation work significantly helps to reduce human-wildlife conflict and to preserve the incredible wildlife diversity in Rombo.
La protection de la biodiversité par les Maasaï
En 2007, le conseil communautaire de Rombo, territoire Maasaï situé au sud du Kenya à la frontière avec la Tanzanie, décide de consacrer près d'un tiers de son territoire à la préservation de la faune sauvage en créant une zone de conservation. Quelques années plus tard, Rombo Wildlife Conservancy Trust (RWCT) est fondé pour assurer la gestion de la zone de conservation et pour permettre à la communauté Maasaï de se développer en harmonie avec sa culture traditionnelle et son environnement ; un camp de recherche est alors créé en bordure de la zone de conservation. Les membres de l'équipe sont tous issus de la communauté Maasaï de Rombo, à l'exception d'une française qui vient en aide à l'association depuis 2011.
L'équipe de recherche effectue un suivi des animaux dans la zone de conservation et recense l'ensemble des espèces animales sauvages présentes sur le territoire, en collectant des données à l'aide de relevés GPS, retranscrits sur papier puis sur informatique. Les relevés de données GPS servent également à cartographier la zone de conservation et l'ensemble du territoire de Rombo car il n'existe encore aucune carte de ce territoire.
De plus, en collaboration avec Big Life Foundation, qui a implanté un camp à proximité de celui de l'association, RWCT oeuvre à réduire les conflits hommes - animaux sauvages. Des membres de l'équipe patrouillent régulièrement avec les rangers de Big Life, eux aussi issus de la communauté Maasaï de Rombo, pour lutter contre le braconnage, recenser et tenter de résoudre les conflits hommes - faune sauvage (prédation sur les troupeaux, destruction de récoltes…). RWCT a également mis en place des programmes éducatifs liés à la préservation de l'environnement dans les écoles du territoire de Rombo. Les élèves sont alors sensibilisés dès leur plus jeune âge à l'importance de préserver la biodiversité dans leur pays et dans la région où ils vivent. Ainsi, l'implication de la communauté locale dans le travail de conservation aide considérablement à réduire les conflits hommes - faune sauvage et à préserver l'incroyable diversité de la faune sauvage sur le territoire de Rombo.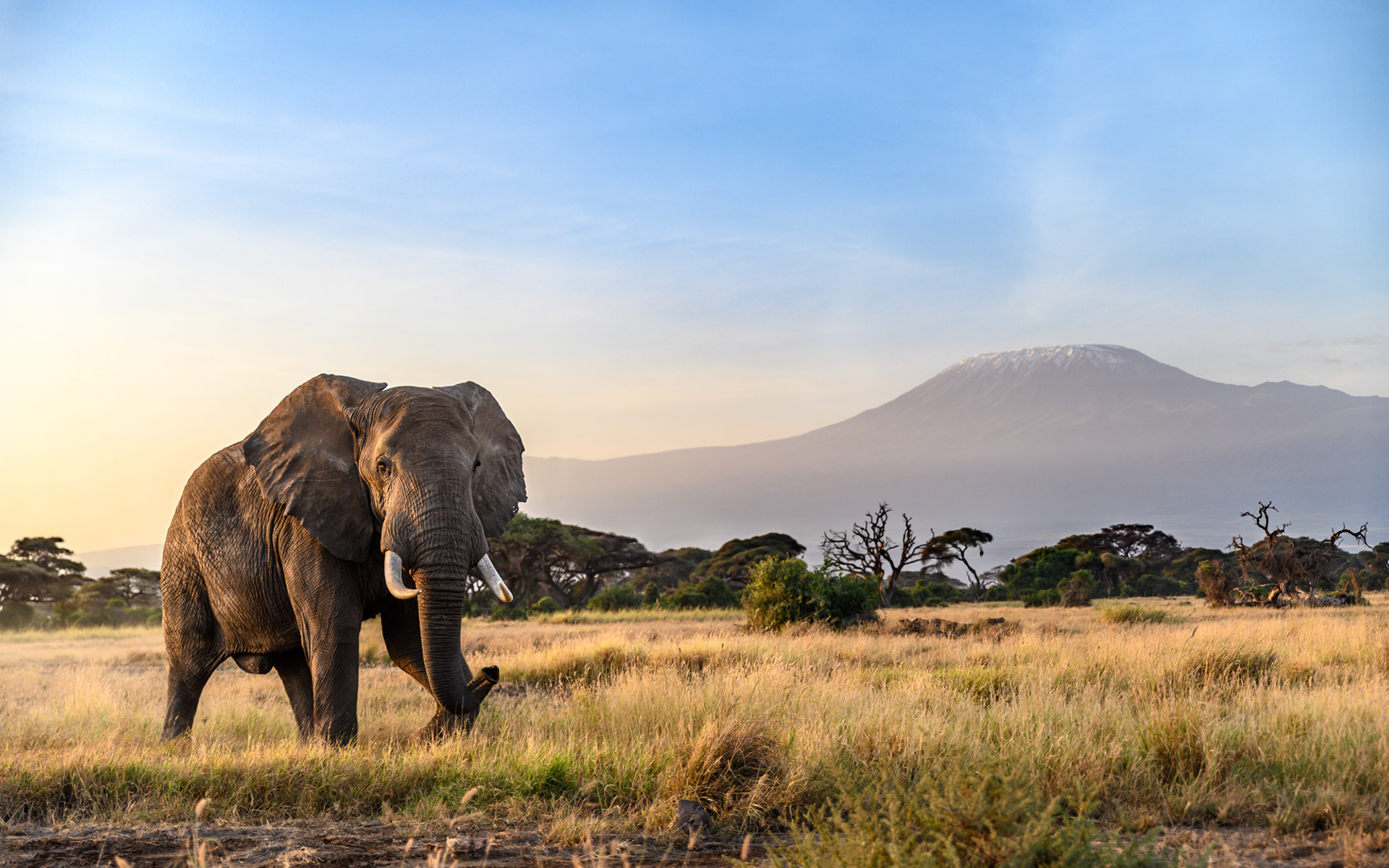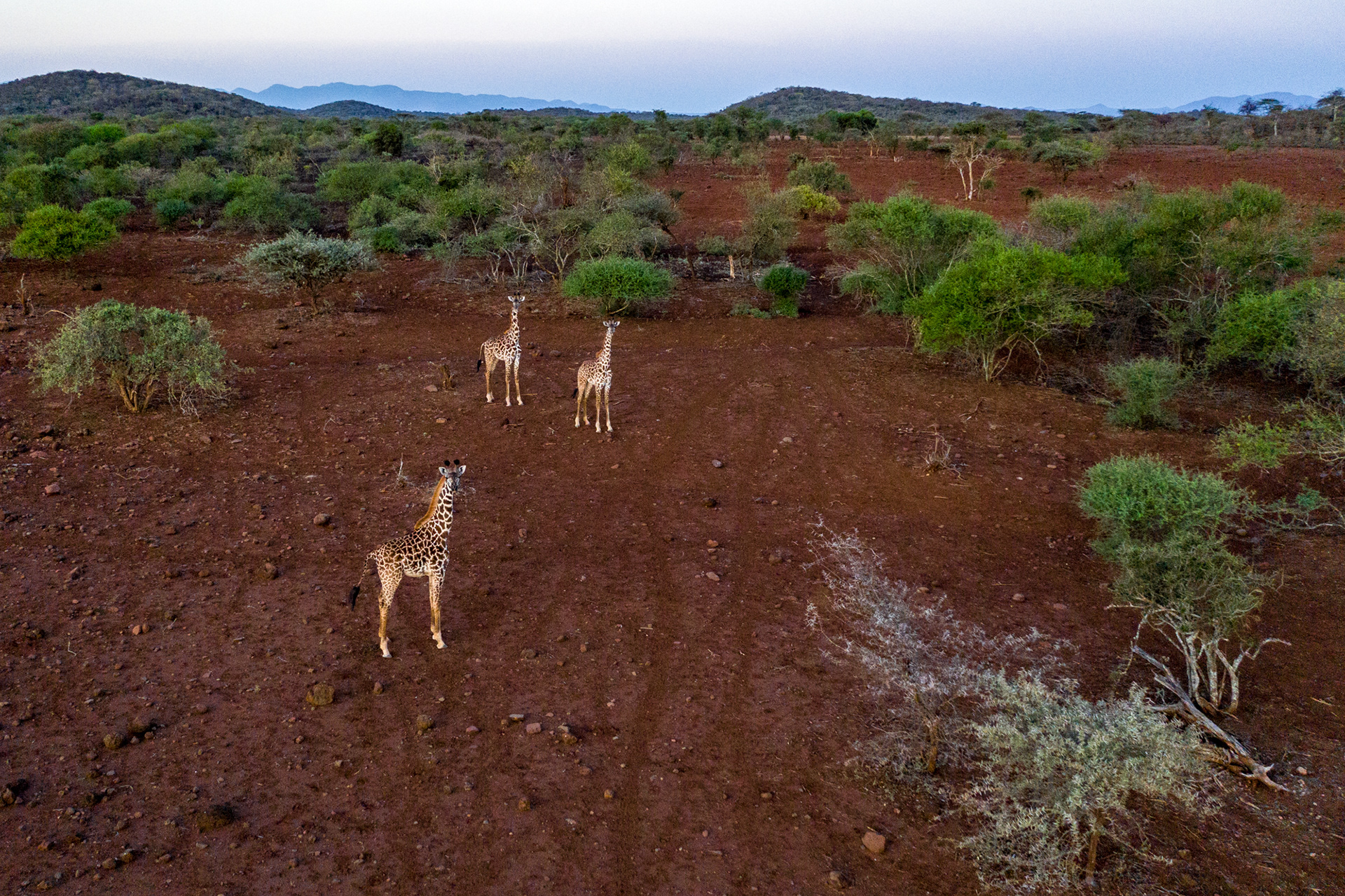 As the human population expands, the incredible diversity of wildlife is threatened in Kenya, as it is everywhere in the world. But in Kenya and especially in the Maasai territories, through protected areas, national parks, safe migration corridors, the involvement of local communities with their traditional knowledge and the help of technology, the preservation of biodiversity is on the right track.
Informations complémentaires en français :
En quelques décennies, les trois quarts des lions ont disparu d'Afrique, réduisant leur nombre à 20 000. Au Kenya, il ne reste qu'environ 2 000 lions contre 30 000 dans les années 1970. Les attaques de bétail par les félins ont amené les hommes à les pourchasser. D'autant plus que tuer un lion est aussi une pratique ancestrale permettant aux jeunes Morans (guerriers Maasai) de prouver leur virilité. Désormais cette pratique a presque disparue et certains guerriers Maasaï se servent de leurs connaissances pour aider à la préservation de ces fauves, comme les membres de RWCT et de Big Life qui sont pour la plupart d'anciens Morans. 
La relative tranquillité dont bénéficient dorénavant les lions et les grands fauves dans la zone de conservation permet de constater un retour de ces espèces, qui passent par le territoire de Rombo pour migrer entre les parcs nationaux d'Amboseli et de Tsavo. 
Pour aider à résoudre les conflits hommes - animaux : lorsque'un félin tue une chèvre ou un animal d'élevage, qu'un éléphant détruit des plantations, Big Life Foundation donne de l'argent à l'éleveur en compensation des pertes subies, pour éviter les représailles envers les animaux.
Le territoire de Rombo se trouvant entre les parcs nationaux d'Amboseli et de Tsavo, les éléphants, comme d'autres espèces, passent par Rombo pour migrer entre ces deux parcs nationaux. Le commerce illégal de l'ivoire est la plus grande menace pour les éléphants. Un rapport récent estime que 30% (environ 144 000 éléphants) ont été tués pour leur ivoire entre 2007 et 2014. Bien que le commerce de l'ivoire soit illégal depuis 1989, il continue sur le marché noir. En 1979, il restait encore 1,3 million d'éléphants, aujourd'hui il n'en reste plus que 450 000.
Les girafes font désormais partie des espèces en voie de disparition : en trente ans, le nombre de girafe a baissé de 40% selon l'Union internationale pour la conservation de la nature. En 1985, on recensait 155 000 girafes vivantes, en 2015, il n'en restait plus que 97 500. Bien que protégées dans plusieurs pays d'Afrique, elles sont illégalement chassées pour leur viande et braconnées pour leurs peaux dans les zones de conflits. Mais la principale menace reste liée au développement économique. Des activités qui entraînent une déforestation importante, et sans forêt, les girafes ne peuvent survivre.
Autres informations sur le travail de l'association :
Rombo Wildlife Conservancy Trust apporte également un soutien aux associations de femmes de Rombo par la promotion de leurs activités et l'aide matérielle et financière à leur développement, notamment par la promotion de bijoux traditionnels Maasai : bracelets, colliers, porte-clés et autres boucles d'oreilles que les femmes du groupe fabriquent. Par exemple l'association a créé un site internet pour vendre les bijoux fabriqués. L'argent de ces ventes permet au groupe de pouvoir financer de nouveaux projets tels que l'achat d'une chèvre, de matériel ou autre. Il peut également être partagé entre les membres du groupe si des difficultés particulières surviennent à ce moment-là (sécheresse, rentrée scolaire, etc.). 
- Le camp n'est pas relié à un réseau électrique, l'électricité provient d'un panneau solaire installé sur le toit de la cuisine, il permet d'éclairer la cuisine et la tente principale, mais aussi de charger n'importe quel type d'appareil électronique (ordinateur, téléphone portable, piles du gps et du talkie walkie…). 
- En dehors du camp il n'y a pas de réseau téléphonique, les membres de l'équipe communiquent alors à l'aide de talkie walkie. 
- Pour aller dans un endroit de la zone de conservation trop éloignée du camp, les membres de l'association utilisent une moto.
Les coordonnées GPS sont utilisées pour relever à quel endroit une ou des espèces sauvages ont été observées. Toutes les informations récoltées sont marquées sur un cahier lors des sorties dans la zone de conservation. RWCT est une petite association, Munju Muteleu et Muturi Kuyan ne sont que deux sur le terrain pour effectuer tout ce travail de recherche. L'ensemble de ces données sont ensuite mises en commun, vérifiées et retranscrites une à deux fois par semaine sur des fiches d'observation. Elles sont ensuite enregistrées sur informatique, permettant ainsi leur analyse. Elles servent également à cartographier la zone de conservation et l'ensemble du territoire de Rombo avec des données topographiques ou anthropiques : rivière, routes, écoles, points d'eau etc. La cartographie du territoire est sur le point d'être terminée et une carte va bientôt voir le jour.
Au fur et à mesure que la population humaine s'étend, l'incroyable diversité de la faune sauvage est menacée au Kenya, comme partout dans le monde. Selon les scientifiques et le dernier rapport de l'ONU nous assistons au début de la 6ème "extinction de masse". Néanmoins, au Kenya et plus particulièrement dans les territoires Maasaï, grâce à des zones protégées, des parcs nationaux, des couloirs de migration sûrs et l'implication des communautés locales, la préservation de la biodiversité est sur la bonne voie.